Ball Bearings
Ball bearings are the most common and the most utilized applications on the market. A ball bearing aims to reduce rotational friction and support radial and axial loads. Its main feature is the rotation speed, being higher than other types of bearings.
CNB has the following ball bearing types:
Deep Groove ball bearings: The single row ball bearing is the most popular type because it is involved in many applications, such as electric motors, vehicles, household appliances. The technical dimensions conform with the ISO Standard.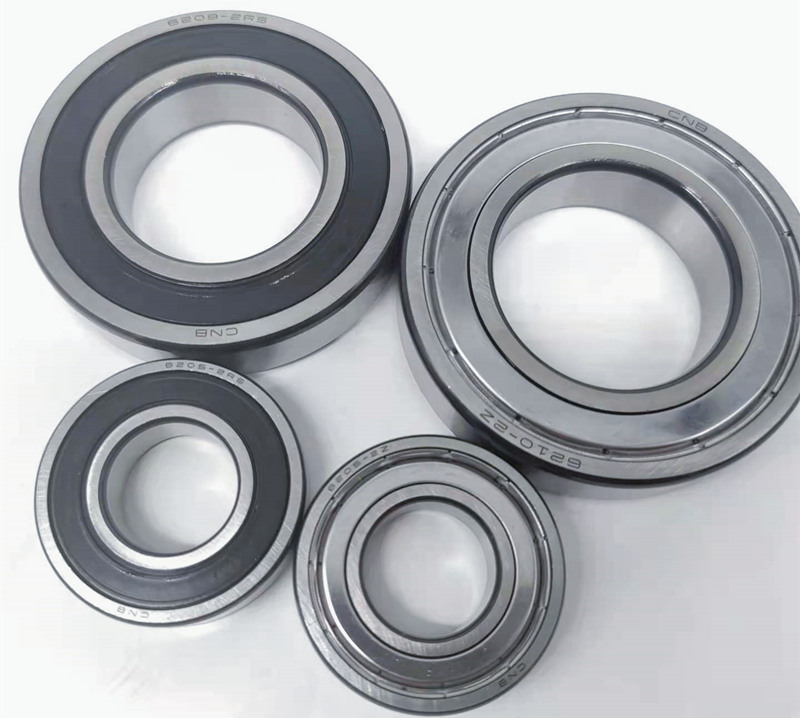 ---

Angular contact ball bearings: Angular contact ball bearings have inner and outer ring raceways that are displaced relative to each other in the direction of the bearing axis. This means that angular contact bearings better support combined loads(radial and axial loads), and the contact angle of the bearing should be matched to the relative proportions of each. The larger the contact angle (typically 10 to 45 degrees), the higher the axial load supported, but the lower the radial load. CNB is mainly into the double row ball bearings(3056 series) used by automobile applications.
---

Thrust ball bearings: The thrust ball bearing comes in single-direction and double-direction types, with the former able to withstand axial load in a single direction and the latter able to withstand load from both directions. The single direction design comprises two rings, referred to as shaft and housing washers, and a single ball and cage assembly. On the other hand, the double direction design comprises three washers and two ball and cage assemblies. The shaft washer separates the ball and cage assemblies of the double direction type.
---
Self-aligning ball bearings: There are two rows of balls, a common grooved raceway in the outer ring and two deep raceway grooves in the inner ring. They are available open or sealed. Accordingly, they are suitable for applications that involve misalignment between the axis and housing centers, axis deflection, etc.
---
Miniature Bearings
CNB chrome steel miniature bearings for shaft sizes from 1.5mm to 9mm
Miniature bearings are also referred to as instrument bearings or micro bearings. They are used in applications such as gyros, anemometers, flow meters, surgical devices, miniature gearboxes, small motors, and radio-controlled models.