Brief Introduction of Chinese Top Bearing Manufacturers
Brief Introduction of Chinese Top Bearing Manufacturers
Bearings, known as "mechanical joints", are an indispensable basic component in modern mechanical equipment, and play an important role in the performance, quality, and reliability of mechanical equipment.
Bearings are widely used in industrial automation, high-end equipment, robotics, automobile manufacturing, engineering machinery, domestic appliances, electric tools, textile machinery, agricultural machinery, national defense equipment, aerospace, and rail transit.
The Asian region represented by China and Japan accounts for half of the global bearing consumption. And it has become the world's largest bearing consumer market. Europe and North America followed closely with 25% and 20% respectively.
After years of competition, the global bearing industry has formed a monopoly by large enterprises. Eight multinational groups from Sweden, Germany, Japan, and the United States divide the market, including the Swedish company SKF, the German company Schaeffler (INA+FAG), Japanese companies NSK, NTN, Minebea, NACHI, JTKET, and American companies TIMKEN. These eight companies account for more than 70% of the global market share.
At present, China's foreign trade bearing products are mainly of low and medium quality, and the world's medium and high-end bearing market is still occupied by eight major multinational companies. In the past ten years, the basic theoretical research of the Chinese bearing industry has been more in-depth, the level of manufacturing technology and production equipment has been continuously improved, the overall added value of the bearing industry has continued to increase, and the gap between the technical content and the international advanced level has become smaller and smaller. With the further improvement of China's bearing accuracy, service life, and other product parameters, Chinese mid-to-high-end bearing products will gradually replace imported bearings, and the market size of the Chinese bearing industry will also be further expanded.
On May 19, 2021, China successfully explored Mars for the first time, and the Mars rover "Zhu Rong" successfully landed on Mars and sent back Martian images. Among them, Luoyang Bearing Research Institute Co., Ltd. (ZYS), as the main bearing supporting company, developed ultra-thin-walled bearings for the "Zhu Rong" Mars rover, which provided a strong guarantee for the "Zhu Rong" successful landing on Mars. Chinese high-end aerospace bearings have basically realized completely independent research and development and production, and don't need to rely on imports.
As the world's largest bearing market, China has attracted most of the world's large bearing companies to set up factories and R&D centers in China. China is working hard to change the low-quality product stereotypes of foreign customers. According to the ranking of bearing sales last year, the following companies are the top ten bearing companies in China. We hope to help all readers change their impressions of "Made in China" bearings and help customers choose more cost-effective bearing products. We can provide bearings with quality assurance, and save more costs for you.
C&U
Renben is a professional bearing manufacturer. It has eight bearing production bases in Wenzhou, Hangzhou, Wuxi, Shanghai, Nanchong, Wuhu, Huangshi, and other places. The output of bearings is nearly 1.5 billion sets. Products are widely used in automobiles, domestic appliances, motors, motorcycles, construction machinery, electric tools, agricultural machinery, textile machinery, industrial robots, wind electricity, medical equipment, and other industries, providing reliable products and solutions for customers in more than 40 industries.
Renben has 76 sales teams in China, 134 bearing chain stores, and overseas companies in the United States, Germany, and Japan, forming a global marketing network that can provide customers with more convenient services.
Renben has a nationally recognized enterprise technology center, passed the ISO17025 laboratory certification, and is a nationally recognized laboratory (CNAS). The technical center gathers bearing experts from all over the world, has participated in the formulation and revision of 39 national and industry standards, and obtained 1,688 authorized inventions and patents. This center has more than 10,000 sets of various analysis and testing instruments, including 1,350 sets of precision instruments, which can complete the testing and analysis of different types of bearings. Professional design and simulation analysis systems provide systematic solutions such as application analysis, design selection, installation, and maintenance for customers in various industries.
Wanxiang Qianchao
The automobile universal joint assembly of Wanxiang Qianchao won the single championship model enterprise in the manufacturing industry. Wanxiang Qianchao has been committed to the research and development and manufacturing of auto parts, products ranging from parts to components to system integration, production specialization, product serialization, and modular supply; products include universal joints, wheel hub units, bearings, and automobile chassis And suspension system, brake system, transmission system, exhaust system, fuel tank, construction machinery parts, and other auto system parts and assemblies, is China's largest independent auto parts supplier.
Wafangdian Bearing(ZWZ)
Wafangdian Bearing Group was founded in 1938. It is the birthplace of the Chinese bearing industry and once ranked eighth in the world's bearing industry. The leading products of ZWZ are bearings for major technical equipment, rail transit bearings, automotive vehicle bearings, wind power new energy bearings, precision machine tools, and precision ball screws, and precision large forgings. It is the best manufacturer of medium and large-size bearings in China. The company has 8 major product manufacturing bases, a total of 23 manufacturing factories, a national-level enterprise technology center, a national bearing product testing center, and the only "national large-scale bearing engineering technology research center". ZWZ has more than 18,000 types of bearings and all of them with independent intellectual property rights, accounting for 26% of all conventional bearing varieties in the world. ZWZ is also developing nearly a thousand new products every year to meet worldwide sales demand, new products accounting for about 45% of total sales revenue. Products are exported to more than 100 countries and regions in the world.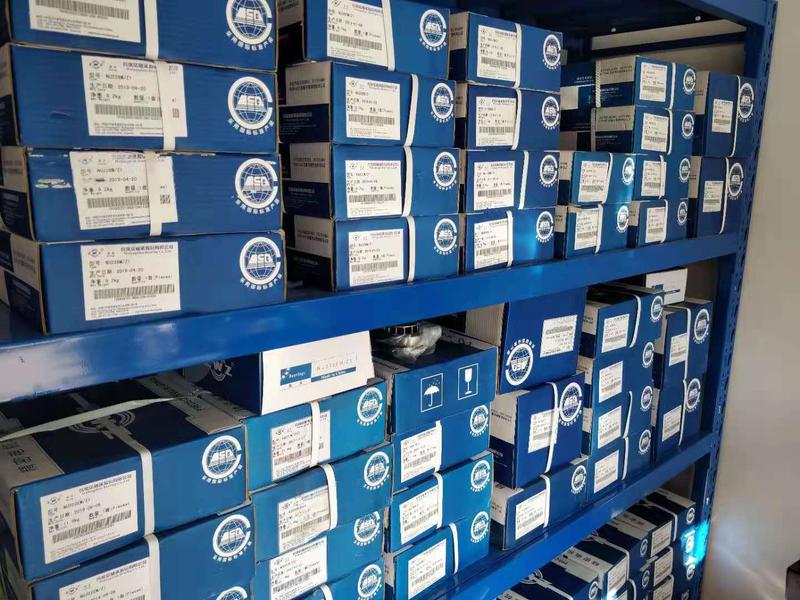 Tianma Bearing(TMB)
Tianma Bearings was established in 2002. It has six professional production bases in five provinces and cities in China, including Huzhou, Chengdu, Beijing, Guizhou, and Nanjing, covering an area of 1.7 million square meters. It is mainly engaged in the research and manufacture of bearings and heavy-duty CNC machine tools. TMB bearing is not only one of the leading enterprises in China's bearing industry, but also the only domestic precision equipment manufacturing enterprise integrating raw materials, bearings, and equipment. It has always been among the top 100 Chinese machinery industry enterprises since 2007.
The company's bearings and machine tool products are positioned in the high-end market. Products could replace import bearings. The "TMB" brand bearings produced are a collection of titles such as "China Famous Brand", "Most Market Competitive Brand" and "China Well-known Trademark", covering more than 4,500 varieties in 10 categories, and are widely used in railways, aerospace, ships, machine tools, motors, mining and metallurgy, wind power, agricultural machinery, heavy machinery, construction machinery, port machinery and many other fields, including short cylindrical roller bearings, railway bearings, wind power generator bearings, roller bearings. The domestic market share of "Qiyi" heavy-duty CNC vertical and horizontal lathes ranks first in China, becoming the champion of the market segment.
5.Luoyang Bearing(LYC)
Luoyang LYC Bearing Co., Ltd. was founded in 1954 and is one of the 156 key projects during China's "First Five-Year Plan" period. After more than 60 years of construction and development, the current production and sales scale and supporting service capabilities are at the forefront of China's comprehensive manufacturing enterprises in the bearing industry.
LYC bearing has passed ISO9001, ISO14001, TS16949, CRCC, OHSAS (Oschatz) 18001, Jianheng, American ARR, French AS9100C, German GL, and other domestic and foreign authoritative organizations. The product series covers nine major categories, more than 20,000 types, and the product size ranges from an inner diameter of 10mm to an outer diameter of 13.5m. With core technologies such as bearings for rail transit vehicles and special bearings for heavy equipment, the products are widely used in wind power generation, rail transit, automobiles and motorcycles, mining and metallurgy, engineering machinery, machine tool motors, industrial gearboxes, medical equipment, port machinery, and other fields.
6.Wuzhou Xinchun
Zhejiang Wuzhou Xinchun Group Co., Ltd. is a group enterprise with bearing industry as its core and also involved in auto parts and equipment manufacturing. Through years of hard-working, the company has achieved a complete layout of the bearing industry, extending from finished bearing products, and then entering the fields of heat treatment, turning, forging, and steel pipes. It is the leader in the operation of the Chinese bearing industry chain. The company mainly produces precision automotive bearings, precision CNC machine tool bearings, high-speed precision textile machine bearings, shaft bearings, and motor bearings, etc., which are mainly exported to the United States, Japan, South Korea, Brazil, and other countries. The automotive bearings are matched to Nissan, Hyundai, and other brands of automobiles; Rings are supplied steadily to the world's top five bearing manufacturers SKF, Schaeffler, NSK, NTN, JTEKT, and other multinational groups; precision steel pipes have passed the QT3 assessment of SKF and Autoliv AS2 audits and entered the world high-end steel pipe market. The successful trial production of steel pipes for automobile airbag gas generators filled the gap in Asia.
7.Cixing Bearing(CW)
Cixing Group is a medium-sized multinational private company mainly producing automotive steering gear bearings, tensioner bearings, chassis transmission system bearings, cooling fan bearings, constant velocity universal joint components, and ball nut components for brake systems.
In recent years, it has developed rapidly in the industry and has achieved many breakthroughs and awards. Cixing is one of the few domestic enterprises that can simultaneously develop and produce high-end automotive bearings, industrial robot bearings, and auto parts.
CW Bearing has established long-term cooperative relationships with well-known companies such as ZF, Bosch, and BMW.
8.Hubei New Torch Technology(NTP)
Hubei New Torch Technology Co., Ltd. mainly develops and produces passenger wheel hub bearings and units. The company is leading domestically and internationally in the market segment of China's passenger wheel hub bearings, and its production and sales are ranked second in China.
The company's main customers are foreign automobiles: Ford, the Citroen logo; the company has more than 70 national patents and 3 national key products
9.Xiangyang Automobile Bearing(ZXY)
Xiangyang Automobile Bearing Co., Ltd. was founded in 1968. It is a national key project dedicated to the manufacture of supporting bearings for Chinese automobiles and was built during the fourth five-year plan period with a national investment of 120 million yuan.
In November 1996, Xiangzhou passed the ISO9001 quality review and obtained the ISO9001 quality standard certification; at the end of 1997, it obtained the ISO9001 product quality certification of the American FMRC company; in March 2005, it passed the Swiss international certification body SGS company's TS16949 quality management System audit, obtained TS16949 certificate.
Xiangzhou has an engineering technology center that specializes in research and application of new products and technologies for automotive bearings. The company's technological research and development capabilities are in a leading position in the domestic automotive bearing industry, and it has many national, provincial, and municipal scientific achievement awards, including enhanced tapered roller bearings, full complements cylindrical roller bearings, automotive air-conditioning compressors, and clutch bearing simulation testing machines. The technology has national patents. The company's products have the ability to support the entire vehicle series of bearing products such as Dongfeng, Jiefang, Seltai, North Benz, JAC, Beiqi Foton, Yuejin, Isuzu, etc., Xiangyang bearing can design and manufacture various types of bearings and auto-parts for special purposes for our customers.
10.Huanchi(HCH)
Huanchi Bearing Group was established in 1973. The company focuses on designing and manufacturing various high-precision and high-quality bearings, which are used in fields such as motors, automobiles, domestic appliances, electric tools, water pumps, gearboxes, motorcycles, heavy vehicles, machinery, and equipment.
In 2011, HCH established its own steel ball factory. 130 million yuan has been invested in advanced steel ball production technology. From steel pipe to turning, from heat treatment to precision grinding, from assembly to research and development, HCH has completed all the built-in processes and started to manufacture its own bearing components to ensure the supply of high-quality bearings.
The above is just a selection of 10 representative companies. In other bearing subdivisions, China still has many high-quality suppliers, such as:
Pillow Block Bearings:TR, FSB
Needle Roller Bearings:Nanfang Bearing
Spherical Plain Bearings:LS(Longxi)
Slewing bearings:FY Bearing, XZWD
High-Precision Bearings/Special Bearings:ZYS
Robot/Machine Tool Bearings:XEZ
Their main products can completely replace the bearings of the world's leading bearing manufacturers, with the same quality but better prices. The bearing precision rating is at least P5.
CNB is a professional bearing manufacturer and supplier. It mainly produces roller bearings and also provides customers with one-stop bearing procurement services. We hope that through our professional skills, we can help you ensure quality and save costs. We are looking forward to cooperating with all customers who have requirements for quality and credit, and CNB will become your best assistant on the road to building your bearing brand.